For years one of the biggest barriers keeping more Americans from traveling to Brazil was the visa requirement. Can you imagine how many people changed their minds about visiting Rio or another Brazilian city when they realized they had to pay an extra $160 plus go thru weeks (sometimes months) of bureaucracy for a visa?
We welcomed the news last year when discussions within Brazil political circles went into full gear to end the visa requirements for Americans. Officials from major tourist cities saw the benefits of temporary visa waivers during the 2014 World Cup and the 2016 Olympics. Fast forward to 2019, and the Brazilian government was ready to officially end the visa requirement.
We were tasked with getting the long-awaited message out to key trade and leisure editors. It had been a challenging couple of years for Brazil tourism, but we hoped this news would revitalize the enthusiasm the world felt about Brazil during the lead-in to the 2014 World Cup   Unlike during that exciting time, though, we had only a matter of days to research and create a media list with the top travel and news media throughout the country. We felt confident we could remind them of all the reasons Rio — and Brazil in general — belong on the travelers' bucket list.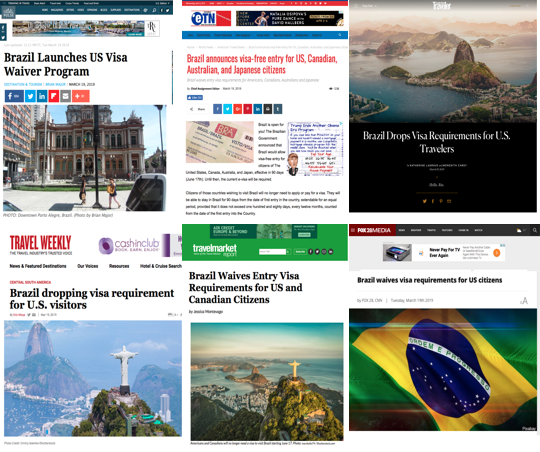 The response was immediate and widespread. Within 72 hours, we had secured 35 feature articles in such important vehicles as the Washington Post, LA Times, Conde Nast Traveler, Travel + Leisure and Afar Magazine, as well as several news outlets. A week after the announcement, trade publications were already reporting an increase in bookings to Brazil.
The visa requirement was, in many people's minds, a direct response of previous Brazilian governments to the United States' visa requirements for inbound Brazil visitors. From a quid-pro-quo standpoint it makes some sense, but from a tourism marketing standpoint, it serves no one when two large and powerful countries attempt to exchange jabs with each other. We are thrilled that the visa requirement is lifted — and looking with trepidation to how our friends over in Europe will be impacted if the EU goes forward with its plan to impose a visa requirement on US visitors.