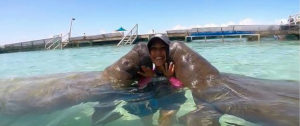 An old but great photo, from one of the all-time most relaxing work moments.
This is a manatee trainer on Isla Mujeres. I spent an afternoon with her, feeding lettuce and melons to manatees. We created a fun little video which became my first Yahoo Travel feature. Amazing that it's one of the only pieces still live after the Yahoo magazines shut down. (Albeit with broken images.)
Because my career is unpredictable and funny, I found myself swimming with sharks off the coast of Florida just about a year later on a Finlandia Vodka shoot. This was produced to much higher quality standards, but for pure endorphin-spiking happiness quotient, I can't believe any creature could surpass manatees. They're like a cross between a swimming couch and a Pokemon.